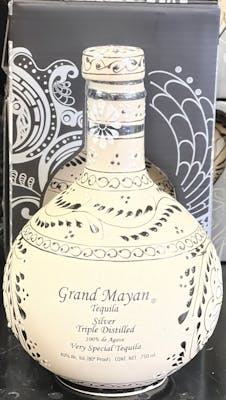 SKU: 793573863720
Grand Mayan Triple Distilled Silver Tequila
---
---
If you're looking for exceptional tequila, Gran Mayan Silver Tequila won't disappoint you. This premium tequila is made from 100% blue agave and comes from the heart of Jalisco, Mexico.
The Gran Mayan Silver Tequila is a clear, natural tequila that has aged up to two months. Its smooth and silky texture will make it easy to sip and savor. This tequila has a slightly sweet taste with hints of vanilla, flower, and citrus.
This handcrafted tequila bottle is also visually appealing. Its sleek, clear glass bottle has an intricate metalwork decoration that represents the ancient Mayan culture. It makes for not only a great taste but also an eye-catching addition to your home bar.
Gran Mayan Silver Tequila is perfect for any occasion. Enjoy it neat, as a shot, or as part of your favorite cocktail. Just one sip of this premium tequila, and you won't want to settle for anything less.
So, why not indulge in the delightful taste of Gran Mayan Silver Tequila today?
Are you 21 years old, or older?