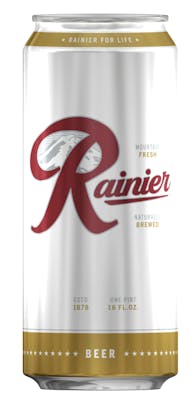 SKU: 072620000036
Rainier Mountain Fresh Beer
---
---
Do you remember when summer days were spent at the beach, and all you needed was a cold Rainer Beer? Rainer Beer brings the nostalgia of Seattle home. It has been around for generations, evoking special memories and conjuring iconic images. When people talk about the local beer of Seattle, often Rainer Beer is mentioned, with its classic labels and stand-out figure. With its "Vitamin R" moniker, it's no wonder that Rainer Beer has become such a beloved part of Seattle culture. If you grew up in Seattle or consider yourself a nostalgic beer drinker, Rainer Beer is for you! It is a great value - something that all beer drinkers can appreciate! So why not grab a cold one today and reminisce on those sunny days at the beach while enjoying your favorite hometown brew? Raise one to everyone who ran after Rainer's bottles back in the day; they were ahead of their time!

4.72% ABV

Watch the old commercials
Are you 21 years old, or older?