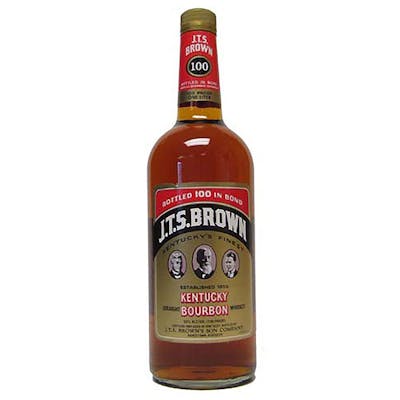 SKU: 096749531370
J.T.S. Brown Bourbon 100pf
---
---
J. T. S. Brown is a 100 proof Kentucky bourbon whiskey produced by the Heaven Hill Distillery company. The distilling operation is in Louisville, Kentucky, and aging and bottling operations are in Bardstown, Kentucky.
the J.T.S. Brown label dates back to 1855, and was first bottled by John Thompson Street Brown, who went on to found Old Forester in 1870 with his half brother George Garvin Brown
What does 'bottled-in-bond' mean? Its roots are an 1897 Federal law called the Bottled-in-Bond Act. It was America's first 'truth in labeling' legislation. In return for allowing the Federal Government to monitor their operations and adhering to a strict set of rules, producers could label their products 'bottled-in-bond,' which the government considered a guarantee of whiskey authenticity. Though guaranteeing quality per se was never the intention, it became that de facto.
The most obvious characteristic of a BIB is its proof, 100°, which means one-hundred degrees of proof, also known as 'full proof,' which is 50 percent alcohol, 50 percent water. Though essentially arbitrary, this was long believed to be the ideal alcohol concentration for a whiskey. Modern tastes seem to prefer a milder 40/60 mix, but bonds must be 50/50, no more, no less.
J.T.S. Brown is the brand Paul Newman's character Fast Eddie drinks in The Hustler. "Preacher – get me some bourbon. JTS Brown. No ice; no glass."