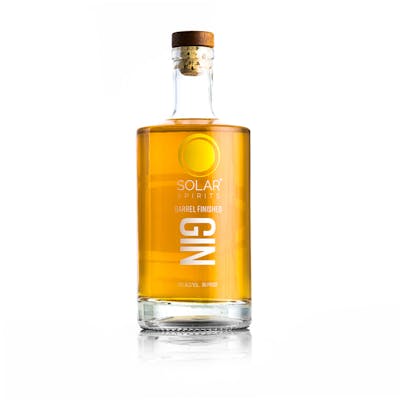 SKU: 862454000230
Solar Spirits Barrel Gin
---
---
Solar Spirits source directly from the farms in the Pacific Northwest. The mash and distilling process is powered by using Solar Evacuated Cylinders to heat the stills, as well as the water they use for production and cleaning. Putting the power of the Sun in every bottle.
This is not your typical gin! This product was finished in Oak barrels for 2 months before being bottled. The Barrel Finished Gin is Gluten-Free and made from 100% cranberry neutral spirits. This Spiced gin departs from our traditional London Dry Gin with subtle but distinct finishing touches.
Solar Spirits Barrel Finished Gin compliments the traditional juniper flavors with a complex array of delicate flavors to tease your taste buds! Solar Spirits Barrel Finished Gin is the result of an extensive experimentation. An early recipe for an adventurous gin resulted in something that tasted a little more like a holiday cookie than a gin martini. A few more adjustments combined with finishing in an oak barrel has resulted in a gin with an attitude. It is perfect alone, as a mule, or with hot cider!

This is a gin that will make you say "WOW!"

Tasting notes are hints of cardamom and cinnamon.

Distilled in Richland Washington.