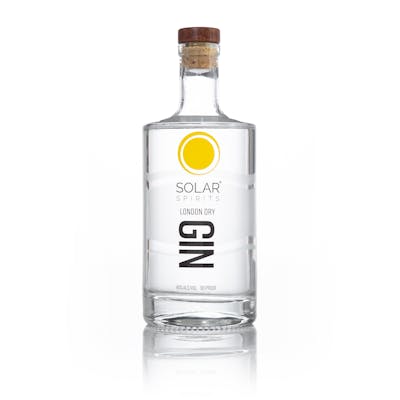 SKU: 862454000223
Solar Spirits London Dry Gin
---
---
Solar Spirits distillery utilizes renewable solar energy to reduce our environmental footprint. Our London Dry Gin is made from the same neutral spirit used to produce our premium vodka. This pure neutral spirit is derived from 100% Washington wheat, grown just north of Pasco, WA. Solar Spirits London Dry Gin is formulated in honor of our distiller's parents.
Jim—our Master Distiller—his parents loved Martinis and a top-shelf gin made them even better–they liked them extra dry, just mist the top with sweet vermouth! This gin would make them smile. Solar Spirits London Dry Gin is the result of extensive experimentation, the Juniper berry aroma and flavor is enhanced by using a combination of re-distillation and vapor infusion with the addition of lemon and lime citrus notes. Perfect Martini or perfect gin and tonic, the choice is yours.
Are you 21 years old, or older?
-->