Bushmills Single Malt Irish Whiskey 16 year old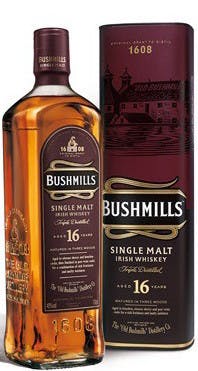 Bushmills Malt 16 Year Old is a rare single malt Irish whiskey. With "Three Wood" maturation and finishing, a malt of distinction emerges, with a fullness of depth and flavour rarely found. This exceptional whiskey is matured for 16 years or more in a combination of American bourbon barrels and Spanish Oloroso sherry butts. The bourbon barrels infuse delicate honey, mild toasted wood and vanilla notes, while the sherry wood lends the malt a rich, fruity sweetness and a distinct nutty character. These whiskeys are then vatted together and married for several months in large old port pipes. This imparts a subtle finishing touch of sweet wine, and allows all flavour elements to gently mellow together, giving Bushmills Malt 16 Year Old its depth, balance and complexity.
Wine EnthusiastThe smashing bouquet features delightful notes of toasted wheat bread, oatmeal, black raisins, trail mix, roasted chestnuts, bacon fat, sweet butter, ruby Port and prunes. Entry is peppery, moderately sweet and smoky; midpalate features succulent tastes of dark chocolate-covered cherries and strawberries, honey and smoked nuts. Finishes elegantly and clean, with deft traces of smoke and cocoa.