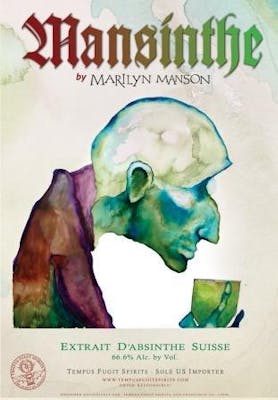 SKU: 7640105020744
Mansinthe Mansinthe by Marilyn Manson
---
---
Traditionally-made, Swiss-distilled absinthe commissioned and co-created by the experienced absinthe drinker and artist. Marilyn Manson.
The artwork for the label is a watercolor painted by Marilyn Manson himself; a self-portrait entitled "When I Get Old".
Naturally colored with botanicals in acordance with historic absinthe protocol, not artificially colored
Unusual, yet natural green tint with light blue reflections. Slow forming louche giving way to a thick green/white opalescence. Earthy, musky aromas combine with alpine herbs and flowers. Initial flavors are round and savory with a full, buttery palate giving way to a balanced, refreshing and complex finish.
Alcohol/vol 66.6% (133.2 proof)
Everyone will ask about this bottle with the goth-rocker Marilyn Manson brand. Undiluted, this jade green absinthe has Good-and-Plenty candy aromas, and mild citrus and floral flavors that finish with heat and some licorice. Adding ice water transforms the scent to more anise-like, even a touch minty, and brings out a big, pure licorice finish that lingers on and on like the last notes of a big-finish guitar solo.
Are you 21 years old, or older?