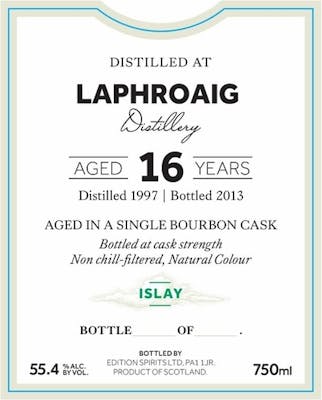 SKU: 789764541737
The First Editions Laphroaig Single Malt Scotch 16 year old
---
---
The First Editions Laphroaig Single Malt Scotch Whisky was distilled in 1997 and matured in an American oak cask that was previously used to mature bourbon for 16 years. In 2013, the cask was bottled at barrel strength without the use of chill-filtration.

As a result, The First Editions Laphroaig 16 Year Old Single Malt Scotch Whisky has a golden honey color, along with an aroma of straw, barley, seaweed and peat. Notes of smoky wood, iodine, vanilla, oak and burnt chocolate dominate the palate, and lead to a bold, peaty finish.
Only 279 bottles of this single malt whisky were ever produced. Pick up a bottle today!
The First Editions brand is the mark of quality which appears across the core range of single-cask bottling of various single malt whisky. With a labels inspired by the classic elegance of an antique manuscript. The First Editions range we bottle single casks from our maturing stocks of casks from distilleries across Scotland's whisky producing regions. Whilst these stocks consist of very young spirit through to extremely old malts and grains, we tend to prefer whiskies of around 18-30 years old.
Are you 21 years old, or older?