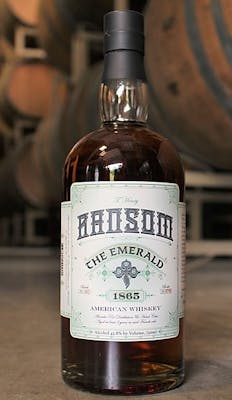 SKU: 665991040901
Ransom The Emerald 1865 Straight American Whiskey
---
---
The result is a highly aromatic spirit with the weight, richness, and complexity of its forbearers. In seeking to recreate a whiskey of another time and place, we feel we have created a spirit that speaks meaningfully to its two provenances; Ireland of yore, and the green hills of Oregon where it has taken a foothold after 150 years of migration. Like so many flavors from our heritage, it truly brings the old country.
Mashbill around 15% oats, 65% malted barley, 10% unmalted barley, and 10% malted rye.
Charred oak, toasted grain, orange marmalade, and coffee.
ABV 43.8%
Made from an Irish whiskey recipe from 1865 ("dug up" by David Wondrich), with malt, raw barley, rye malt and rolled oats, distilled in an alembic pot still. Amber with a distinct red/pink cast to it. Very fruity nose-greengage plum, mulberry, sweet orange - with creamy vanilla. Taste of sweet cereal with a firm bitter keel; the fruit returns as an echo in the finish. A very craft beer-like whiskey; challenging, interesting, unexpected. A bit brash, but worth investigating. - LB
Are you 21 years old, or older?
-->