Knob Creek Small Batch Kentucky Straight Bourbon Whiskey 9 year old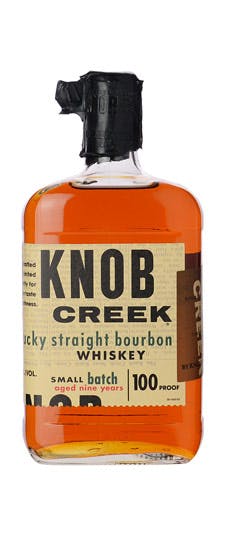 Introduced in 1992, Knob Creek is part of the Jim Beam Small Batch Bourbon Collection along with Basil Hayden, Booker's, and Baker's. This Kentucky straight bourbon is bottled at 100 proof.
Color: Deep amber or roan to henna. Aroma: Robust vanilla & caramel; slightly smoky mature rich cooperage. Taste: Deep, full vanilla; surprisingly sweet & nutty. Finish: Long and full. Easy sipping.
Wine EnthusiastThough complex and flavorful, the extremely high proof of this nine-year-old small-batch Bourbon means it won't be for everyone. Dose it with plenty of water (or your mixer of choice) to enjoy the dry character with notes of vanilla, leather, orange peel, clove, red-hot cinnamon and a long caramel finish.