Solar Spirits Coffee Vodka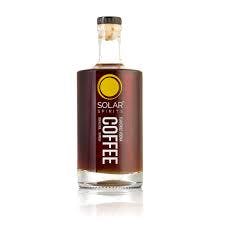 Solar Spirits source directly from the farms in the Pacific Northwest. The mash and distilling process is powered by using Solar Evacuated Cylinders to heat the stills, as well as the water they use for production and cleaning. Putting the power of the Sun in every bottle.
Solar Spirits Coffee Vodka uses Cold Press Coffee from Barracuda Coffee Company in Richland Washington to create this fabulous coffee flavored vodka. The coffee is "Kenyan Sun" is grown in full sunshine and results in a bold coffee flavor with notes of brown sugar, chocolate, and blackberry. Enjoy chilled, on ice or mixed.

Winner of a Double Gold at Sip Northwest
Distilled in Richland Washington.