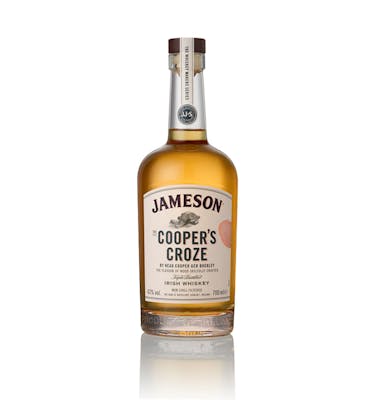 SKU: 080432110645
Jameson Cooper's Croze
---
---
Our 5th generation Head Cooper, Ger Buckley, knows everything there is to know about wood, casks, butts and barrels. To celebrate his passion for Coopering, we have created The Cooper's Croze, the first of the Whiskey Makers Series to launch in the U.S. Focusing on the profound influence the wood yields on a whiskey's character, The Cooper's Croze uses virgin American oak, seasoned bourbon and Iberian sherry barrels.
The whiskey's namesake – the croze – is named after Ger's favorite tool, an implement used to make the groove into which the head of the cask or barrel is positioned.
Tasting Notes
This non chill filtered whiskey effortlessly carries the charred virgin oak character with vanilla sweetness from the seasoned bourbon barrels and rich fruit flavors and a fine balance of floral and spice notes from the sherry barrels.
This new blended Irish whiskey is intended to showcase flavors imparted by the barrel. (A cooper makes barrels; a croze is a tool used to cut grooves in the barrel.) Look for a bright, fresh scent layered with fresh pear and sweet vanilla, which is echoed on the palate. Adding water coaxes out more vanilla, crème brûlée and baking spice. A real sipper, this whiskey warms all the way down.