Guinness Blonde American Lager 6 pack 12 oz.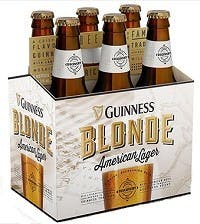 Unavailable
We're sorry, but this product is not currently available.
Guinness Blonde is the first fusion beer in the new Guinness Discovery Series combining the best European brewing techniques with the finest American hops in a collaboration between the Guinness Master Brewers in Dublin and their US Master Brewer counterparts at the famous Latrobe Brewery in Pennsylvania. The result is a a crisp, light, but flavorful beer characteristic of the 1930's American Pale Lager style with just a little 'more' hoppy and citrus characteristics and a unique biscuit malt taste that begs to be experienced.