Oola Distillery Waitsburg Bourbon Whiskey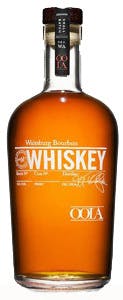 This medium to full bodied bourbon presents a classic profile of vanilla, caramel and cherry on the nose - rich and compelling. Sweet, smooth corn combined with brown sugar/maple syrup and oak is balanced with a notable spice contributed by the higher than normal rye content. The finish is beautifully long with notes of buttery oak, toffee, and again the cherries make an appearance.
Wine EnthusiastSurprisingly evolved for a three-year-old whiskey, this one has a four-grain mash bill (corn, wheat, barley and rye). It's on the sweeter side, with notes of caramel and hazelnut interspersed with orange peel and spice. It's mouthwatering, and would be particularly good in an old-fashioned or other cocktails.