Wishkah River Honey Vodka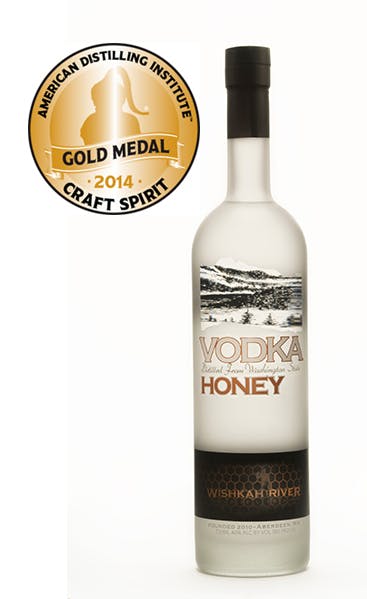 Unavailable
We're sorry, but this product is not currently available.
Vodka Distilled from Honey - 80pr – 750ml & 50ml
Vodka Distilled from Honey? We often hear this question when presenting this product. To which the response is after we explain is,... "I didn't know you could do that". Well,.....we're here to proudly tell you we can. Our Vodka Distilled from Honey is just that, distilled "from", not "flavored with". We start by taking wild flower honey collected throughout the state of Washington and ferment into what could be considered a high alcohol content mead wine. Then we triple batch distill and filter to taste. The result is an extremely unique vodka with comforting flavors that tantalize your palate, leaving a lustrous finish abuzz with good cheer. A floral nose, very silky mouth feel mid-palate, and a slight hint of honey at the finish that quickly diminishes leaving you thirsting for more. A truly unique vodka experience.
Awards
- Beverage Tasting Institute - 2014 Vodka Review - Silver Medal (Highly Recommended) - 87 Score
- American Distillers Institute - 2014 8th Annual Judging of American Craft Spirits - Gold Medal – Vodka
- SIP Northwest Magazine - 2014 - "Best Vodka of the Northwest" – 2nd place
- SIP Northwest Magazine - 2013 - "Best Vodka of the Northwest" – Champion